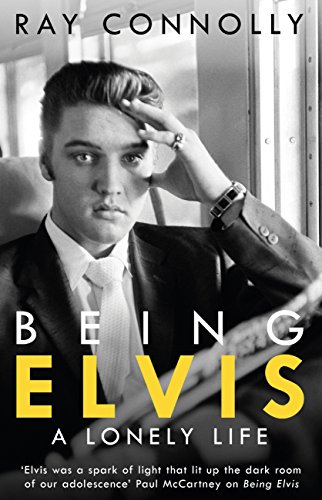 Welcome to the Discovery Page for 'Being Elvis: A Lonely Life', by Ray Connolly. We've ploughed through 43 chapters of this acclaimed biography of the 'King of Rock 'n' Roll', and searched the web for a host of additional content for you to enjoy.
Including...
> Elvis Presley
> Red Foley
> Sun Records
> Dewey Phillips
> Colonel Tom Parker
> Big Mama Thornton
> Johnny Bragg and the Prisonaires
> The Beatles
... and much more. Step this way:
The birth certificate of Elvis Aaron Presley
/** * @var $module \Ucraft\Module */ ?>
"His beginnings could hardly have been more humble; his expectations more limited. Born at around half past four in the morning of 8 January 1935, in a two-room shack in Tupelo, Mississippi, a couple of oil lamps provided the only light, and a log stove boiled the necessary water. Thirty minutes later a twin brother followed: Elvis Aaron and Jesse Garon, their names had already been chosen. But Jesse was stillborn.""

(Chapter 1: 'Since I was two years old all I knew was gospel music')
/** * @var $module \Ucraft\Module */ ?>
"A favourite right through childhood, 'Old Shep became the first song he sang on children's day at the Mississippi-Alabama Fair and Dairy Show when he was ten."

(Chapter 2: 'Don't you worry none, Mama')
Humes High, Class of 1953 | Comments from Elvis' classmates
/** * @var $module \Ucraft\Module */ ?>
"Racial segregation was the order in Memphis just as much as it had been in Tupelo, but while Lauderale Courts and Elvis's school, Humes High, were in a white neighbourhood, nearby central Memphis was more of a black city than he'd expected, espeically when he got down to Beale Street and beyond."

(Chapter 3: 'I would just sit there in class...')
The Sun Records Collection
/** * @var $module \Ucraft\Module */ ?>
"But Elvis also knew that the Memphis Recording Service was just a side business, something to help pay the rent while (Sam) Phillips was starting his own record company. The new label was called Sun, for which Phillips would record some of the blues musicians off Beale Street, guys like B.B. King, Ike Turner and Howlin' Wolf, the fellows nobody else wanted to put on record "

(Chapter 4: 'I don't sound like nobody')
Memphis Disc Jockey, Dewey Phillips
/** * @var $module \Ucraft\Module */ ?>
"By this time, however, Sam had already played 'That's All Right' to the Memphis disc jockey Dewey Phillips... If Dewey liked the record and played it on his nightly programme, 'Red, Hot and Blue' on WHBQ, Sam would get some idea from the reaction as to whether it was worth releasing."

(Chapter 5: 'What the hell y'all doin' in there?')
'That's All Right' and 'Blue Moon Of Kentucky'
/** * @var $module \Ucraft\Module */ ?>
"The rhythm and blues disc jockeys liked 'That's All Right' while the country ones went for the bluegrass 'Blue Moon Of Kentucky'. The band had wondered where they might fit musically, but they found they were hitting both markets."

(Chapter 6: 'What happened, what happened?)
Colonel Parker Managed Elvis' Career, but Was He a Killer on the Lam?
/** * @var $module \Ucraft\Module */ ?>
"Parker had been around a while and had a lot of contacts. But, after getting to know him just a little, it became quickly clear that Parker always had more on his mind than doing favours."

(Chapter 8: 'That Colonel... he's the Devil himself')
National TV debut on CBS' 'Stage Show' 
/** * @var $module \Ucraft\Module */ ?>
"By his standards he was restrained and at first the audience was subdued. But by the time of Scotty's guitar break midway through the song, when he began to move a little, prompting at first laughs and applause and then a few amused screams, he could sense a surprised excitement."

(Chapter 9: 'If I can't move, I can't sing')
Big Mama Thornton – 'Hound Dog'
/** * @var $module \Ucraft\Module */ ?>
"Probably the best thing professionally that came out of those two weeks was that he saw Freddie and the Bellboys a couple of times at the Sands Hotel singing the Big Mama Thornton hit 'Hound Dog'. It's really a woman's song, telling a no-good guy to stop snoopin' around her door, wasting her time and eating her food. But Freddie had changed it around a little by singing, 'you ain't never caught a rabbit and you ain't no friend of mine'. The lyrics didn't make any sense, but the song sounded to Elvis like the perfect showstopper."

(Chapter 11: 'The coloured folks have been singing and playing...')
'Aura Lee' and 'Love Me Tender'
/** * @var $module \Ucraft\Module */ ?>
"The melodies of the four songs were all in the public domain, with the tune to 'Love Me Tender' going right back to the Civil War, when it was called 'Aura Lee'. It had also been used as recently as a couple of years earlier when it had been the background theme in another Western."

(Chapter 12: 'Imagine! A Memphis boy with Natalie Wood')
Graceland: The home of Elvis Presley
/** * @var $module \Ucraft\Module */ ?>
"'It was in Whitehaven, about eight miles south of downtown Memphis, and, in those days, out in the country. Seeing the house from the road, and then going up the long, curving driveway between big, old oak trees he assumed it was an antebellum house, maybe a hundred years old. But it was actually younger than he was. Only built in 1939, by 1957 it was in a pitiful state."

(Chapter 15: 'He was rich, he was flash)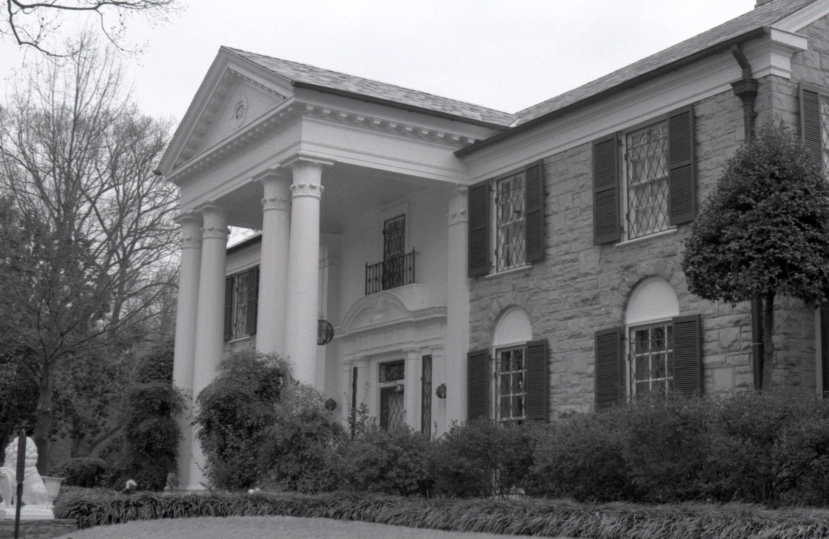 Peace In The Valley – The Complete Gospel Recordings
/** * @var $module \Ucraft\Module */ ?>
"Gladys wasn't well. Often in her housecoat and slippers all day and close to tears most of the time, she played her son's EP of hymns, Peace In The Valley, over and over. She knew that, as likely as not, he would be sent overseas and that frightened her. Elvis's cousin, Junior Smith, who now worked for him, had come home from Korea shell shocked and discharged as being mentally unfit to serve. He now had a drink and pills problem."

(Chapter 17: 'I'm lucky to be in a position to give')
Elvis Presley Photos: Gladys, Vernon & Elvis Presley
/** * @var $module \Ucraft\Module */ ?>
"Vernon called him at 3.30 a.m. Elvis would say later: 'I knew what it was before I even answered the phone.' Gladys was dead."

(Chapter 18: 'Wake up, Mama')
Elvis' Army Discharge And Home Coming
/** * @var $module \Ucraft\Module */ ?>
"Young men are often changed during their time in military service, and Elvis was no exception. When he'd been drafted he'd been twenty-three years old, but in some senses, fame had arrested his development, making him still the boy sensation he'd been at twenty, devoted to his mother, and perhaps naive in many ways. After two years in the army, his ambition burned as brightly as ever, but now some of the wonder and romance of youth was gone. There was a more brittle, impatient, even arrogant edge to him."

(Chapter 19: 'The world is more alive at night')
Johnny Bragg and The Prisonaires
/** * @var $module \Ucraft\Module */ ?>
"While driving his new Rolls-Royce home he stopped off at Tennessee State Prison. He wanted to visit inmate Johnny Bragg, the young African-American with the beautiful voice, who had been the lead doo-wop singer on the Prisonaires' 'Just Walkin' in the Rain'. That had been Sam Phillips' first hit in 1953, one of the records that had helped attract the schoolboy Elvis to Sun. In the eight years since Bragg had made that recording, Elvis's life had changed beyond imagination. For Bragg, it had been eight years in a prison cell..."

(Chapter 21: 'Whatever I become, will be what God has chosen for me')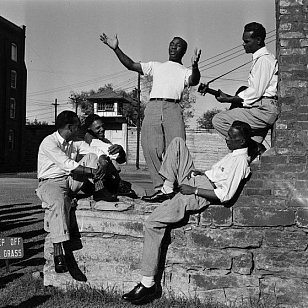 The Beatles on The Ed Sullivan Show, 9th February 1964
/** * @var $module \Ucraft\Module */ ?>
"With Priscilla at Graceland, he was enjoying a break in Las Vegas with the guys when he watched the group's first appearance on The Ed Sullivan Show on 9 February. With the excitement in the New York TV theatre and the hysteria building across America it all seemed so familiar. But this time it wasn't for him."

(Chapter 24: 'If we can control sex...')
6 Times Elvis & Priscilla Turned Heads On Their Wedding Day
/** * @var $module \Ucraft\Module */ ?>
"... after the way Elvis had been behaving recently, Parker's view was that marriage and a settled-down life couldn't come quickly enough."

(Chapter 28: 'Some of you maybe think tht Elvis is Jesus Christ')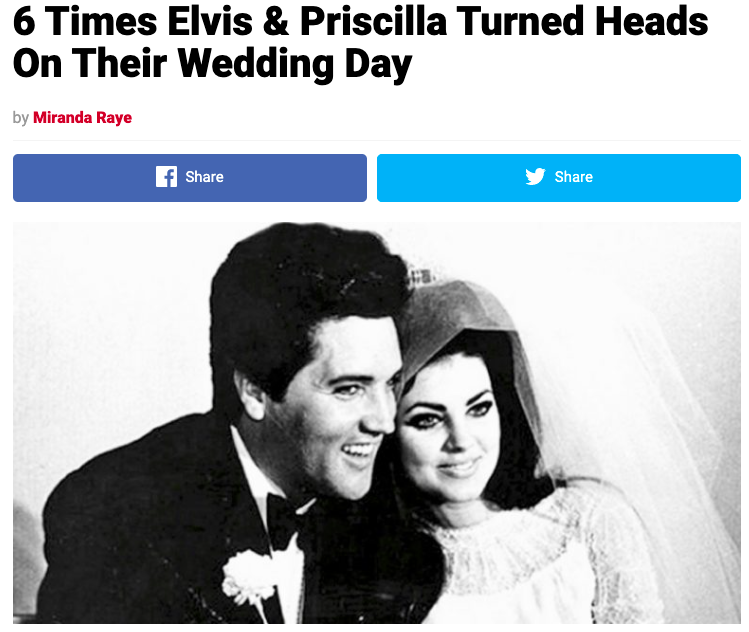 /** * @var $module \Ucraft\Module */ ?>
"Mistakes had been made and remade during his movie career, but on television it had never gone wrong, and what became known as the ''68 Comeback Special' got it right, too. NBC's choice of Steve Binder, who had won awards for filming a concert tht had featured Chuck Berry and the Rolling Stones, was absolutely right."

(Chapter 29: 'What am I going to do if they don't like me?')
Elvis Presley – 'In The Ghetto'
/** * @var $module \Ucraft\Module */ ?>
"'In The Ghetto' was an obvious hit, but there were worries among the guys that Elvis was taking a risk with some of his fans by recording it. The Colonel wasn't happy either. He'd been careful never to let Elvis voice a political opinion, and he now advised against releasing 'In The Ghetto' as a single, believing it identified Elvis too closely with black America."

(Chapter 30: 'And what was I thinking?')
1971 Jaycees acceptance speech
/** * @var $module \Ucraft\Module */ ?>
"By Christmas 1970 he'd reached a new peak of ambition. Not quite thirty-six, the president of the United States had honoured him at the White House and his concerts were sell-outs wherever he played. Then in December he received word that the Junior Chamber of Commerce of America had selected him as one of the nation's Ten Outstanding Young Men of the Year."

(Chapter 34: 'I was a dreamer')
/** * @var $module \Ucraft\Module */ ?>
"If he was nervous and wired before any show, and, as he admitted, he always was and always had been, how would he feel going out on stage to face over a billion people? But fear always energised him. And, after he'd spoken to the director of the concert, Marty Pasetta, the man who regularly did the Academy Awards show, he just loved the idea. It couldn't fail to appea to his vanity. Firstly, though, Pasetta had a message for him: 'I want you to go on a diet. I want you to lose some weight,' he told him."

(Chapter 36: 'Sorry that I didn't brea his goddamned neck')
Elvis Presley: Decline And Fall (Podcast)
/** * @var $module \Ucraft\Module */ ?>
"A manager other than Tom Parker might have recognised the state he was in, cancelled all future tours and recording sessions, and booked him into a hospital until his health was improved and his body fully detoxified. Like it or not, faced with the possibility that he would have no income if the Colonel hadn't booked him anywhere, Elvis would have had no choice but to agree. But Parker didn't do that. Instead, when he became embarrassed about how bad some of Elvis's performances were, he simply shouted at him, repeating that he must pull himself together or 'you're going to lose your home, your fans and everything...' He would then book him for another tour."

(Chapter 40: 'I get carried away very easily')
News report of the death of Elvis Presley
/** * @var $module \Ucraft\Module */ ?>
"His body was face down in the red shag carpet in the middle of the bathroom, as though he'd been reaching for the phone which was attached to the wall. A book about sex and psychic energy lay lose by."

(Chapter 43: 'A lonely life ends')
/** * @var $module \Ucraft\Module */ ?>
"'Hearing Elvis for the first time,' said Dylan, 'was like busting out of jail. I thank God for Elvis Presley.'"

(Afterword)
* curated content is sourced from 3rd party websites, and may become unavailable if hosts decide to remove the content from their platform(s).