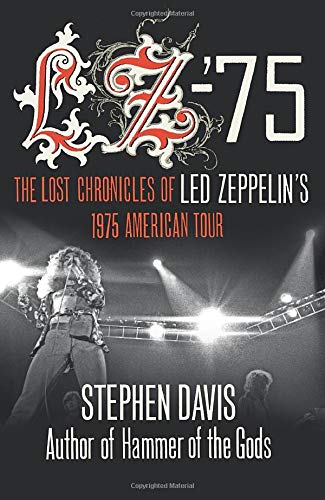 LZ-'75: The Lost Chronicles Of Led Zeppelin's 1975 American Tour

by Stephen Davis
Stephen Davis's brilliantly written personal account of criss-crossing America with Led Zeppelin on their 1975 tour. A warts-and-all snapshot of the world's biggest hard-rock band at their peak. As a young rock writer Stephen Davis landed the ultimate commission – touring America with Led Zeppelin. This is a personal account by Davis of his journey, which saw him crossing the country with the band on board the Starship, their famous Boeing passenger jet, complete with deep shag purple carpet, electric pianos, girlfriends and star-struck hangers-on.
LZ-'75 captures a few perfect months in rock, when Led Zeppelin epitomised the free-living rock dream, but, like Icarus, their wings were already beginning to melt. It wouldn't be long before John Bonham died of a vodka overdose, and punk killed their brand of monumental rock.
£6.49 for ROCK N ROLL BOOKS subscribers*.
(RRP £8.99 - save £2.50)
*Subscribe to ROCK N ROLL BOOKS for £12.99 a month for a 2--book box. Pause your subscription at any time.